Products
Recording and Mix

MIX via computer controlled SSL 4048 mixer with total recall and monitoring on balanced Genelec//Dynaudio/Adam monitors. Large selction in high-end outboard effects, which are used so as not to overload the computer's performance by using software effect plug-ins, that in turn can't meet the demand of many different effects.
MASTERING with high-end equipment connected via AES/EBU is also one of our specialties.
Recording/editing of vocals with high-end microphones and tube preamps/comps in accoustically well balanced recording room
Recording of acoustic instruments – guitar, harp, violins, celloes, floor bass, in-house stage piano etc.
recording/editing of electric guitars, basses, organ / Leslie via vintage tube amps in seperate recording boxes.
Recording/editing of drums in specially designed drum vault
Master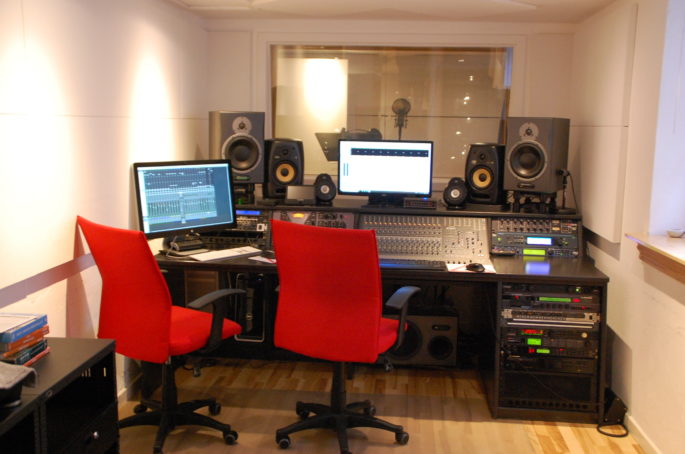 Media Sound Productions also does price conscious mastering – of high quality.
We've done more than 200 masterings. We do it in Wavelab on PC/Lynx with various analogue/digital outboard systems and/or software
Mastering is necessary in order to get the final mix on the same volume level as other CDs. And also, to put the UPC/EAN code (bar code) and ISRC code, so the radio stations can calculate Coda, NCB and Gramex. By doing this you can se the codes in the display.
Contact us now for a special offer
Live and PA
No job is too small and no job too big, from small receptions to large scale festivals.
Everything is professionally rigged with stagebox to the mixer.
We have house boxes with complete microphone/linedriver/cables of superb quality for both rigs as well as stands etc.
12 pair of 54 lamps on hinges and 4 stands
We also have two basic rigs with a 12 channel Soundcraft
The sound engineers in Media Sound have extensive experience in doing live concert sound.
The studio owner, Peter Brander, has among many others been chief sound technician for:
Danish acts:
Nikolaj og Piloterne, Big Fat snake, Michael Falch, C.V. Jørgensen, OneTwo, Erann DD, Zapp Zapp, Johnny de Luxe, Peter Viskinde Band, Malurt, Mikkel Nordsø Band, Fielfras, Monrad og Rislund, Royal Hunt, Turn on Tina, Bamboo Brothers, Skipper Just Frost, and many, many more
Foreign acts:
Ainsley Lister, Michael Schrieve (Santana), Eric Johnson & Double Trouble, Mike Stern / Minh Doky, John Mayall, Walter Trout, Albert Lee, Sweet, Bo Diddley, The Sweet, Pat Travers, Michael Ruff, Jonas Hellborg, Sky High, Marco Mendoza og mange andre.
Need a professional sound technician? Contact us now
All questions reg. Booking and/or prices on PA can be directed to studio manager Peter Brander Tlf. 32 54 61 00
Teaching

Great experience in teaching regarding the use of Pro Tools, mixer pool, microphones, reverb, compressor, etc.
Education in live sound technology, including setup of microphones, use of mixer pool, PA system, monotor  systems and other relevant equipment in live situations.
Contact the studio for more info
Prices
Recording / Mix/ Mastering: 67 EUR. / hour.
SPECIAL OFFER:
ONE WHOLE DAY (8 hours)
price include recording, mix, production, sound tech., mastering and CD's of the final result to everyone in the band
Price: 470 EUR.
ONE WHOLE WEEKEND (sat.+sun.)
price include recording, mix, production, sound tech., mastering and CD's of the final result to everyone in the band
Price: 805 EUR.
For longer booking contact the studio for special offer